STAY. PLAY. OWN.
Vacation Ownership Opportunities on Gull Lake
Introducing the Hottest Rental Units on Gull Lake. Here is your opportunity for whole ownership of vacation unit at Quarterdeck Resort! It's all about #MoreFunOnGull.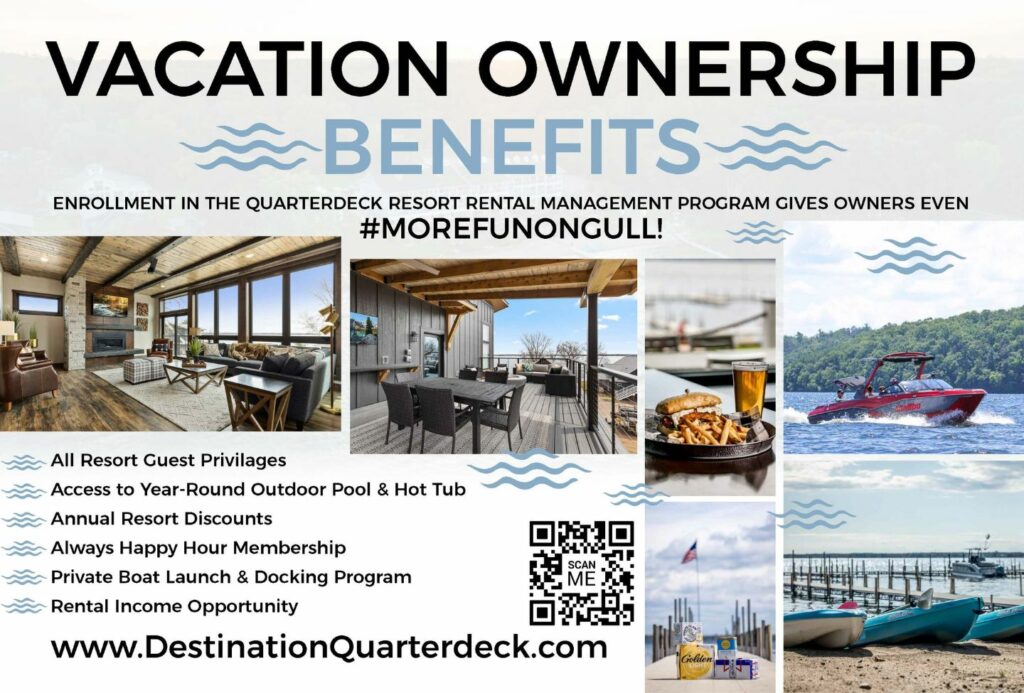 OWNERSHIP DETAILS
Enrollment in the Quarterdeck Resort Rental Management Program gives Owners even #MoreFunOnGull
WHOLE OWNERSHIP
You own your home completely free and clear, and are a member of a common homeowners association. Joining the Quarterdeck Rental Program means they take care of everything guest related from reservations to housekeeping, and beyond.
Enjoy your vacation home for up to 42 days every summer (May 1st – October 31st) and up to 100 days during the winter season. All you have to do is unlock your door, and you're on vacation. Take back the elusive time and enjoy true maintenance-free ownership and resort style living.
BENEFITS & AMENITIES
Within the Quarterdeck Rental Program, owners and their guests have full access to all resort amenities, year-round outdoor pool and hot tub, access to the private boat launch and docking program, annual resort discounts and It's always happy hour membership.
RENTAL PROGRAM
Quarterdeck Resort facilitates all critical management functions relating to the owner's vacation home including: marketing, reservations, check-in services, housekeeping, security and revenue management. Quarterdeck will rent your vacation unit when not in use and split the revenue of approximately 50/50 with you. Enjoy true maintenance-free ownership and resort style living.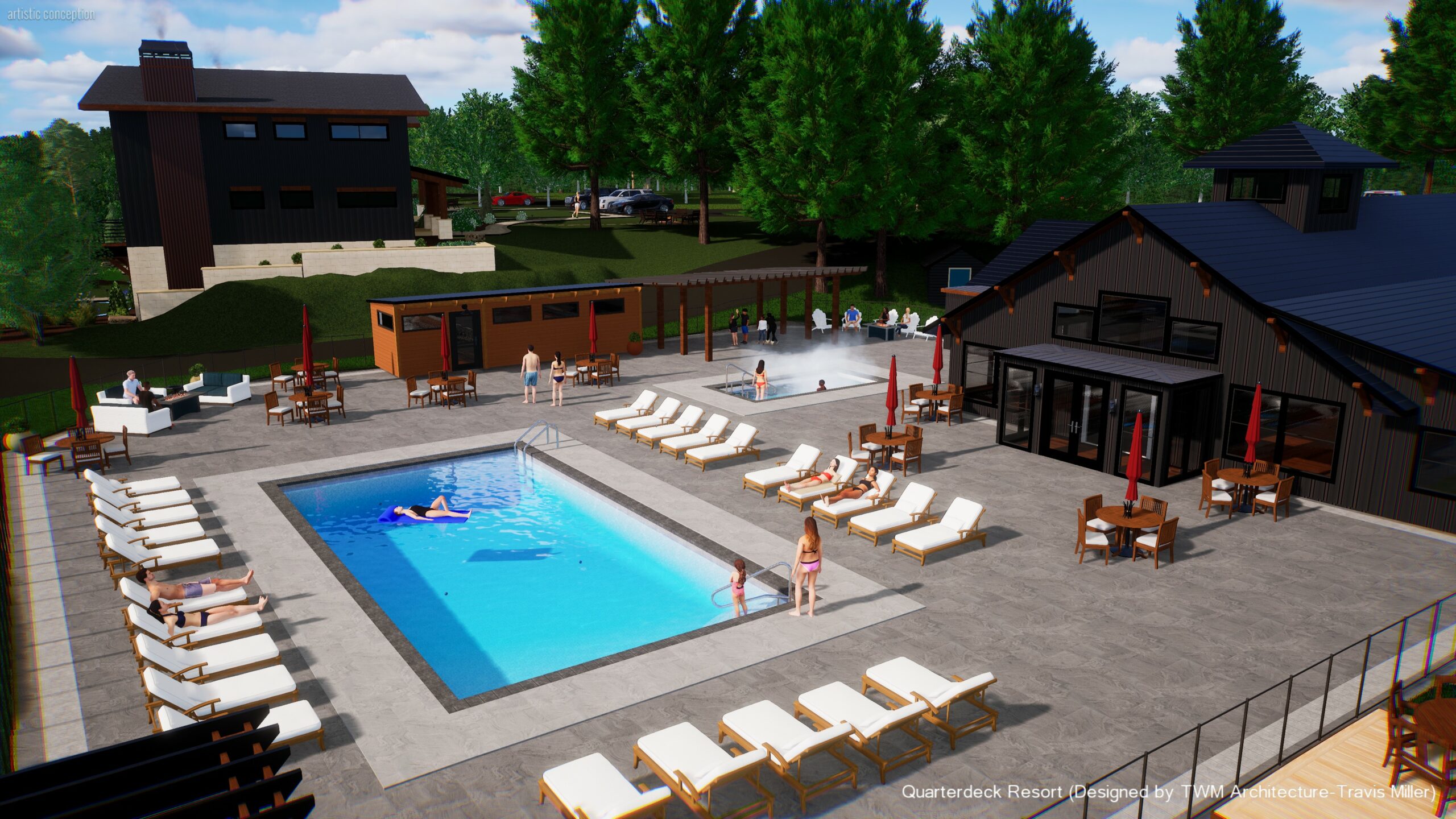 INTRODUCING CLUB QUARTERDECK
New Amenities coming 2023 & 204! Be one of the FIRST to Experience Club Quarterdeck! This innovative project is the outset of something very unique. While the proximity to the lake is Quarterdeck's number one amenity, they are adding extras for true comfort and fun for the whole family. The New Beach Club Phase 1 construction will include a year-round outdoor pool, a year-round outdoor hot tub, an exercise facility, and an expanded playground/area.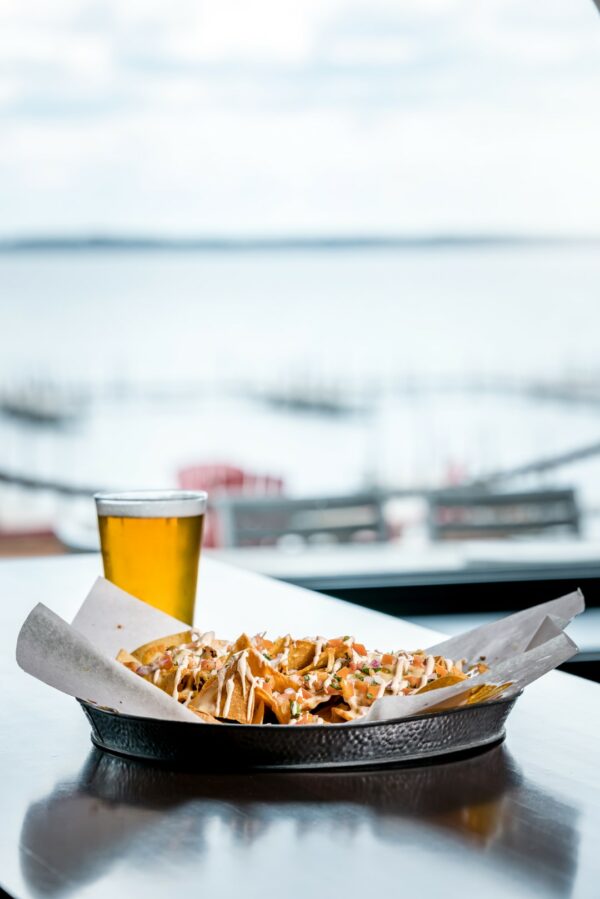 The Quarterdeck Beach Grill offers delicious food including small plates, a large selection of beer, wine, and spirits, live music, and seven big-screen TVs throughout the bar.
Restaurant Hours:
11:30am – 9:00pm Monday – Thursday
11:30am – 10:00pm Friday and Saturday
10:30am – 9:00pm Sunday
Sunday Brunch Buffet 10 – 1
*Bar will be open later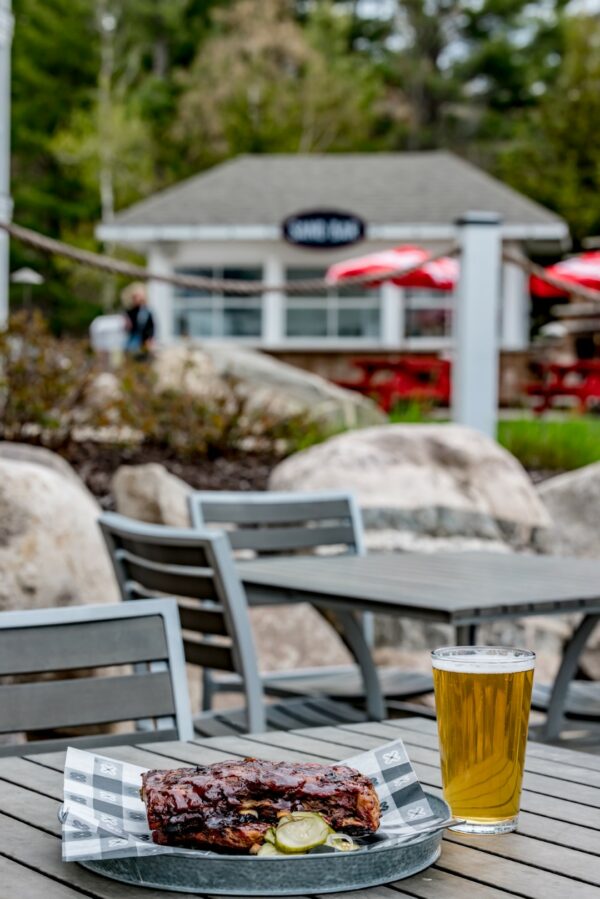 Enjoy magnificent views at our casual beachside bar. Hang out and snack on big-ass pretzels while sipping naked or boozy slushies. Other menu items include hot dogs, wine, beer, and seltzers. A staff favorite is the Gray Duck Bomba Juice! Relax in our cozy lawn chairs in front of the wood-burning fireplace and listen to live music. Open seasonally.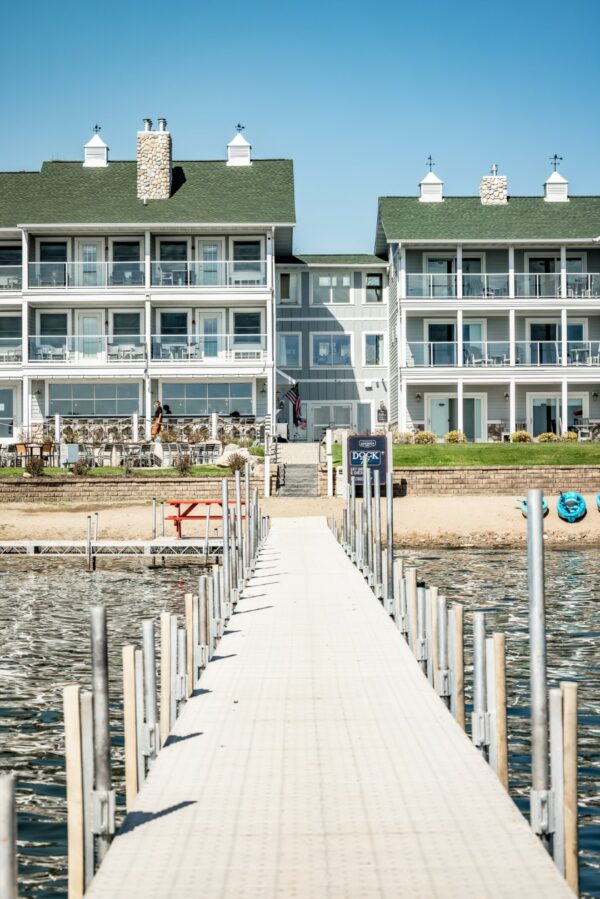 The Quarterdeck marina includes a private boat ramp, 24-hour pay at the pump marine fueling station and over 50+ slips.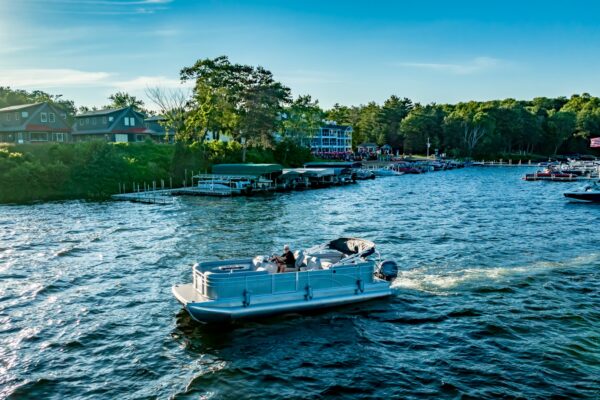 Spend your days at Quarterdeck Resort exploring the channels and bays of the Gull Chain of Lakes in one of our pontoon rentals. We have Avalon pontoons available for our guests to rent during their stay.
Commemorate your stay with a wide range of apparel, souvenirs, and gifts. For guests' convenience, the gift shop is fully stocked with everything you may need during your stay.